ERROBI KANTA
---
OUR HISTORY
ERROBI KANTA is issued from St ANDRE (Bayonne) church choir, originally conducted by Mr. Andre BEHOTEGUY. It was a mixed group (women and men). Some of men singers decided to create a traditional Basque choir, it means 4 egal voices Bass, Baryton, Tenor 2 and Tenor 1.
In 1979, after many visits in the RENTERIA library dedicated to Basque compositors and music, Michel PHARRAGUERRE and André LALANNE, picked up some unpublished works in order to increase the repertoire of the new group. Between 1979 and 1983 the group was lodging in "Les Croisés de St ANDRE". In 1983 the Basque choir "ERROBI KANTA" was born.
In 1985 ERROBI KANTA became an association and find a building located 30 rue des Cordeliers in Bayonne. Since that year, this place is our mythic area, were administration, training session, events as well as friendly reception took place.
André LALANNE conduct the choir during performances and training always to reach "QUALITY".
With around 23 members and 2 trainees ERROBI KANTA, in a perpetual commitment works hardly to maintain the Basque tradition of "A CAPELLA and FOLK "songs.
OUR TYPES OF PERFORMANCES
ERROBI KANTA may produce different types of groups on request:
✓ The complete choir (22 singers and 1 musician) for concert in church, festival, congress…
✓ A 12 singers' group for private party or small lounge as restaurant or hotel.
✓ An 8 singer's group very traditional known as "OXOTE"
✓ A small group of 4 singer for dedicated benefit.
All types of groups are incremented with accordion and guitar for folk song.
Finally, ERROBI KANTA wish to provide to all listeners visiting our country or in their home town the original and traditional Basque culture. That is why ERROBI KANTA s invited and requested everywhere in France as in foreign country.
Our goal is to provide the pleasure to listen as for us to sing.
OUR CULTURE
Deeply imbued from the ancient medieval ducts created in Bayonne, ERROBI KANTA exert to respect, during gigs, the original musical scores for "A Capella" as folk songs with musical instruments in accordance with this the location between NIVE and ADOUR rivers.
The "Pena" located in the old district named "Petit Bayonne" is also used for the cultural Basque singing school always followed with a gourmet feast.
All opportunities to carry on the tradition of liturgical or folk songs, in quatre, oxote or complete choir are taken also as ambassadors everywhere in the world to share our rich culture and feelings.
Strong advocate and fan of our Basque identity, ERROBI KANTA pay attention to all innovative developments and attend to dedicated events in town or overseas.
OUR LOCATION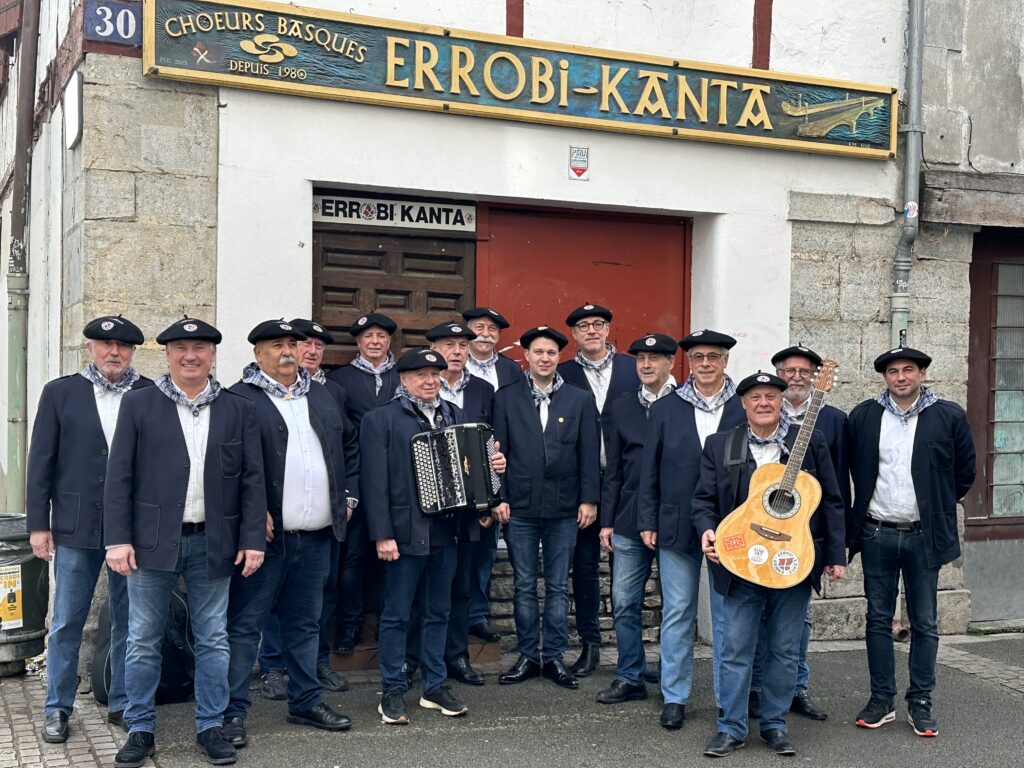 Our "Pena" is a key point for all traditional Bayonne events. More than private club, it is a way and art to live. Every Tuesday at night, the choir is gathering for training session, followed by authentic and friendly diner.
In this home, the choir keep a strong spirit of fellowship in order to serve our common passion to sing and the strong connection to the Basque culture.
More than an address 30 rue des Cordeliers is a place of work, exchange and transmission.